I am participating in a Vibrant Influencer Network campaign for L'Oreal Age Perfect. I am receiving a fee for posting; however, the opinions expressed in this post are my own. I am in no way affiliated with L'Oreal Age Perfect and do not earn a commission or percent of sales.
My skin is a lot like a political debater — overly sensitive and hyper-reactive. I've been using a variety of skin creams and diuretics and antibiotics for years trying to battle the beauty of cystic acne. That's why I was really apprehensive about trying any anti-aging products.
I've spent money on the best creams out there, only to have my skin exhibit a certain counter-dependence, bringing a troop of determined soldiers to make cystic molehills into mountains.
[quote button_text="Tweet the Quote"]L'Oreal is like my personal cavalry.[/quote]
I started using the L'Oreal Age Perfect Cell Renewal on October 21st, and as of November 17th  my skin looks younger . . . and I have not experienced one single breakout. These products are packaged in gold for a reason.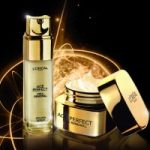 I notice the biggest change on my neck area — you know, that area that wins the race for the fastest aging part of your body. I had been using a very expensive cream on my neck but it did absolutely nothing, other than make my skin so sticky I started collected dust particles when I walked around. At night, when I'd put my book away, I'd wake my husband up with the velcro sound of my skin separating.
But L'Oreal is different. It feels good going on, it smells fresh, and it never makes my skin feel anything other than amazingly soft.
I'm not one to go on and on about any product, but I'm going to on and on about this one. I have had at least one person a day tell me how good I look – the word "glow" and "healthy" has been used repeatedly. It makes me wonder what I looked like before L'Oreal.
I have L'Oreal's Age Perfect Cell Renewal products now, and I love them. You cannot have mine, but you really need to consider ordering your own. Check out this excellent fact sheet and believe everything it says. Because it works.
And thank you, L'Oreal, for liking me and other women my age enough to create this product. #sponsored #cellrenewal